2. GRAS: The Gathering Hand Exhibition


March 2023
Words by Slancha

Slancha was lucky enough to attend the opening night of 'The Gathering Hand', the inaugural collection of carefully considered products designed by

GRAS

. The passion and dedication that went into creating these pieces was palpable in every detail, we were struck by the beauty and authenticity of each object on display.

Placed thoughtfully around the Custom Lane showroom, The Carpenter's Tables are a celebration of the beauty and versatility of natural materials. Effortlessly combining a scorched cork tabletop with an expertly crafted oak base, The Carpenter's Tables are a testament to the value in collaboration between the designers and makers.


The Carpenter's Low Table made in collaboration with Studio Corkinho & Namon Gaston


The Carpenter's Dining Table made in collaboration with Studio Corkinho & Namon Gaston


Another highlight of the collection was the Stonemason's Objects, a set of functional, primitive forms that perfectly blend materiality, simplicity, and surface texture. The process of bead-blasting leaves the Portland stone with a coarse yet smooth texture, allowing the Stonemasons bowl and cylindrical weights to seamlessly compliment the tactility of the rest of the collection.


The Stonemason's Bowl made in collaboration with Albion Stone

Finally, The Glassblower's Vessels, a series of carefully crafted, mouth blown glassware. Each vessel is uniquely marked through a process of submerging hot glass into cold water, creating an undeniably delicate aesthetic. The crackled texture created by this process leaves each vessel with its own distinctive markings. The vessels are an exploration into a material's ability to be pushed to the extreme, while remaining honest in its form and function.

The Gathering Hand was truly a testament to the value of physical creation and the exploration of material and form through hands-on, interdisciplinary design.


The Glassblower's Tumbler made in collaboration with Edmond Byrne


The Carpenter's Side Table and Glassblower's Vessles


The Carpenter's Low Table made in collaboration with Studio Corkinho & Namon Gaston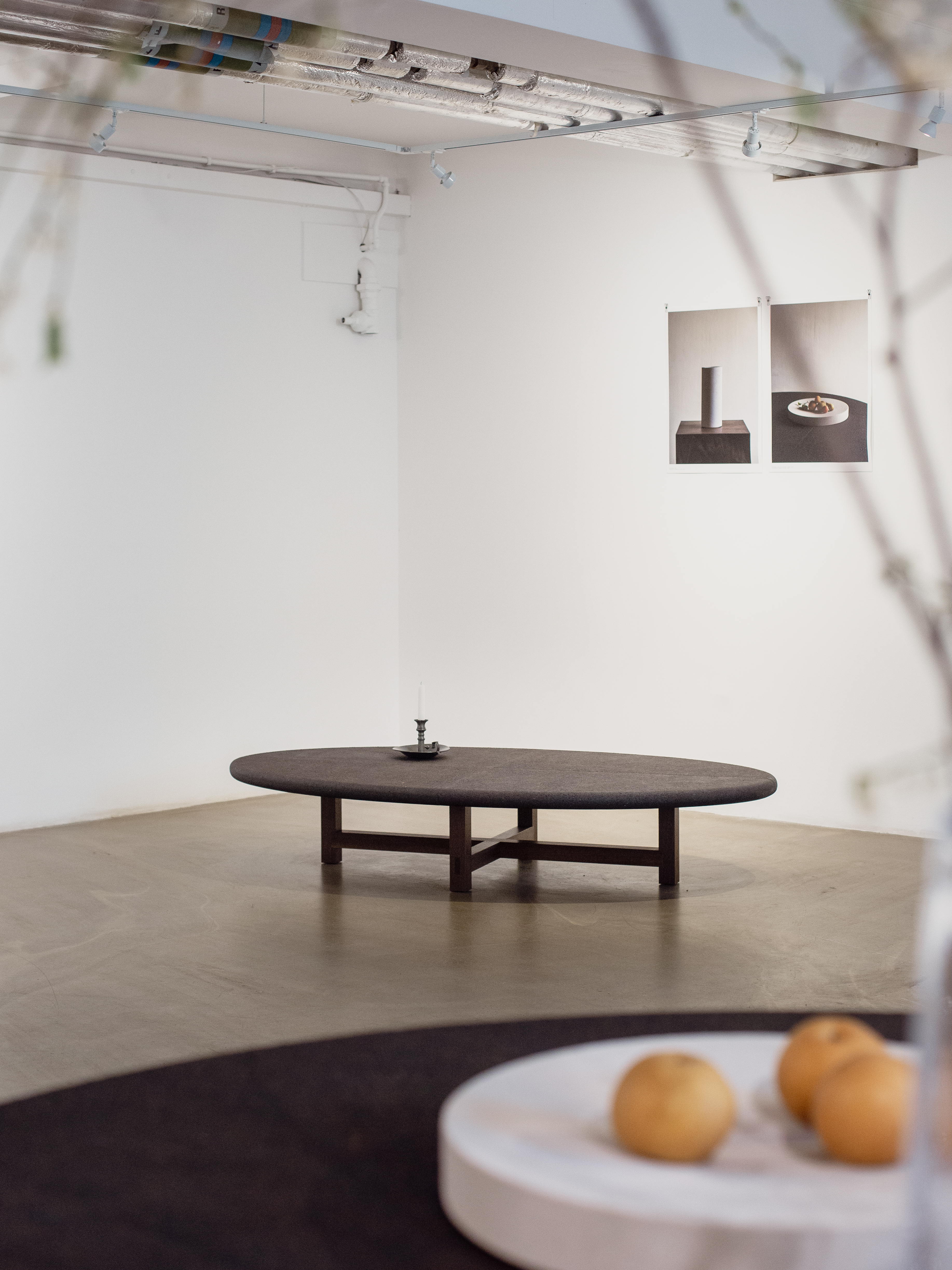 The Carpenter's Low Table made in collaboration with Studio Corkinho & Namon Gaston
The Stonemason's Weights made in collaboration with Albion Stone



The Stonemason's Bowl made in collaboration with Albion Stone