6. Furniture Inspired By Sound With Alistair Byars


November 2022
Words by Slancha/Alistair Byars

Can you give a little background about yourself and how you got started as a designer?

My passion for design and making really started around second year of uni (2016-ish). I was studying Product Design Engineering at Glasgow University and School of Art. We were given quite a fun project linked to Blade Runner and specifically the iconic design-language that really enhanced that world. I think I stumbled across the Bauhaus movement while looking for some references and from then on, I was completely addicted to furniture and objects. My visual language has evolved a lot since then, but I am still very much of the mindset that design and craft can be used to create holistic and profound worlds.


You refer to sound inspiring a lot of your work. Can you expand on this and how this goes on to influence the shape and form of your designs?

I think that whatever I find deeply meaningful in the act of creating - the same meaning is found when listening to music. So these two things are very much bonded together in my head. Often if I hear a certain piece of music, I can see what the sound looks like - or alternatively if I'm looking at something, I can hear what the form sounds like. This doesn't happen with everything, but when it does happen, I know that the form or sound is worth taking note of. When I am considering my work and how different pieces might sit together in one space, I am instinctively thinking of how the space sounds too. I know what music to put on when I'm looking to create something. The artists that affect me best when I'm creating would be Arvo Pärt, Wim Mertens, Anna Von Hausswolff, Nils Frahm, Brian Eno.


Moonlight Low Table. Photography by Gabriela Silveira & Vessel by Viv Lee



Alba Stool. Photography by Gabriela Silveira

Why do you feel that music has had such an influence on your practice?

It plays into the idea again of creating a world. This is something I will strive to do more and more effectively and profoundly over time. When creating a world, all the senses need to be considered and my work, up till now, only exists across sight and touch. But the world also has a sound and a smell and maybe even a taste. So I don't think one of these things can be considered without the others. Music is an abstract form of communication and I feel the same way about my work.


Aside from sound, do you have any other key forms of inspiration behind your work?

Architecture. Both in the real world and in film. I have thousands of images on my laptop that I have been collecting over the past several years, of anything that I come across and want to hold on to forever. Architecture is the setting within which the world can take place.


Monad I. Photography by Gabriela Silveira

Materials and textures also create a great tactility to your work. At what point in the design process is this taken into consideration?

To a certain extent, as soon as I have the idea it comes with a general scale and a materiality. These things seem to come into existence together. So I know very quickly what kind of material families should be considered for an idea. The tactility is so important, because the pieces I make should be touched and not just seen from a far. The intimate connection of touch can really bond you to something. Tactility is part of why I love to make in the first place. The process of interacting with a physical form. Sometimes to know how to finish or shape a piece, you don't even have to look at it. I can close my eyes and run my hands over something I'm working on and know if the form should be altered.


Your recent work for GRAS spans across multiple mediums, can you discuss how you found this process and any challenges that came along with creating this body of work?

This has been the best experience I've had with design to date because it wasn't just undertaken as a solo project (as much as I do like that too), but within the supportive framework of a dynamic architecture studio. Instinctively, we were very interested to explore quite an architectural material palette at object scale; stone and glass are two very elemental and foundational materials which we were excited to study. Cork was also something that really intrigued us, especially the prospect of working with Studio Corkinho in Antwerp. I think their work is so profound and we tried our best to honour this and convey this materiality within a family of quite traditional tables.

Our overarching goal with the collection (the Gathering Hand) was to use form in service of materiality. So the forms are quite simple and restrained, while the materiality is really quite compelling.

It was certainly a challenge though - as the level of collaboration was something quite new to me and was something that required continual logistical thinking. Being mindful of things like deadlines and quality control while maintaining naturally occurring creative exploration. It's a skill that I hope to further develop as we continue.



GRAS - Photography by Gabriela Silveira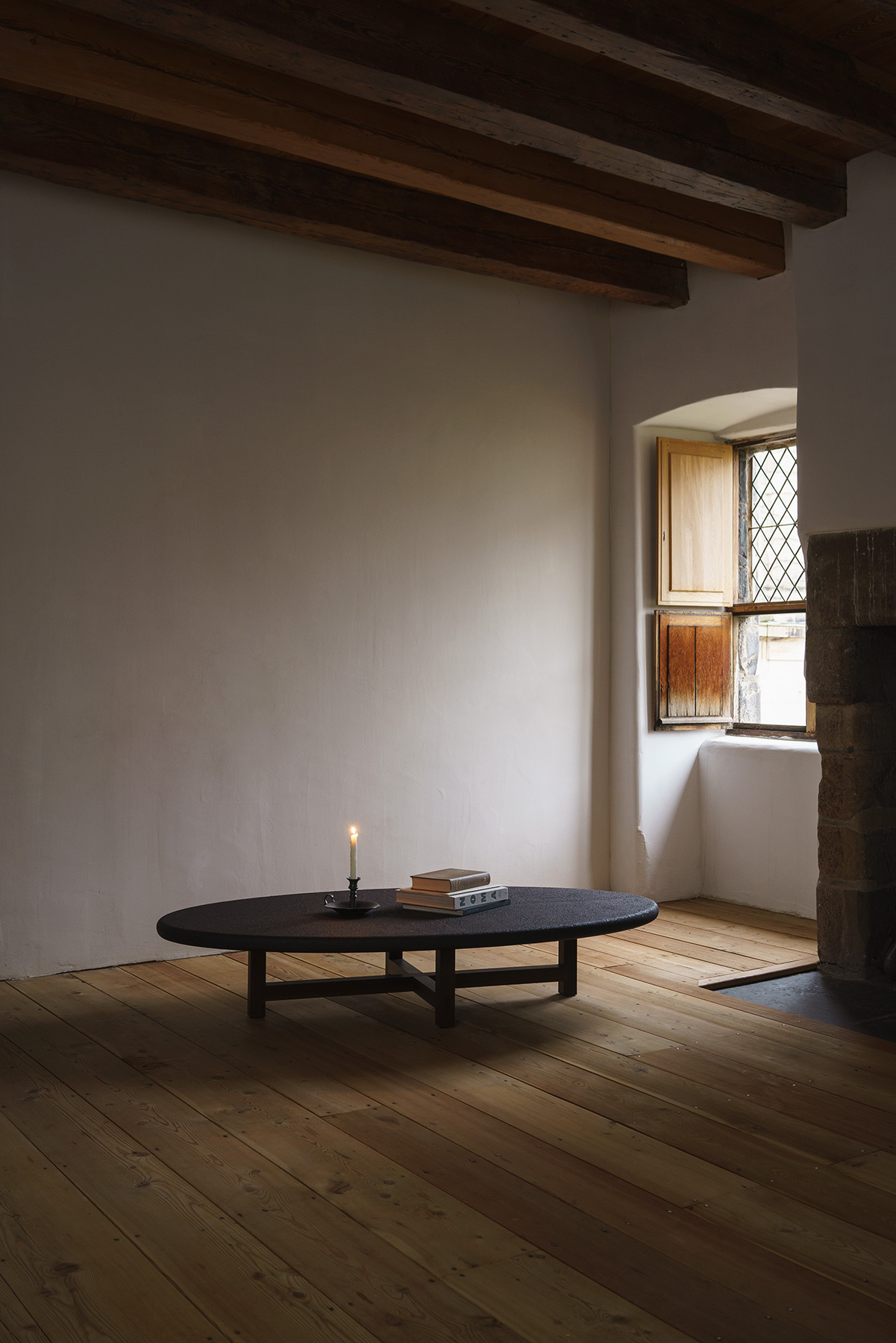 GRAS - Photography by Gabriela Silveira


GRAS - Photography by Cedric Etienne


GRAS - Photography by Gabriela Silveira

What are you working on now and what is next for you and your practice?

I am now working as a permanent member of GRAS, where I will be able to continue my work in furniture and object with them and also work alongside the architects in aspects of material exploration and perhaps even interior design. Personally, I am working on some things in the background. I am working on them very slowly, which I think allows them to become the best versions of themselves. I'm considering seating, tables, lighting, wall-pieces, ceramics, sculpture, architectural scale models. Still at the one-off and small quantity scale for now. The materiality of my work is also something I want to push much further. Working with traditional textures of wood, stone, metal, glass, linens but also finding compelling ways of introducing bio-materials.


How would you describe your work in three words?

Work in progress


GRAS - Photography by Gabriela Silveira



Photography by Gairnshiel Lodge


Photography by Shaun Barton

alistairbyars.co.uk
@alistair_byars
GRAS.co
@_GRAS