5. Imagined Geology With Nicholas Denney



November 2022
Words by Slancha/Nicholas Denney

Tell us a bit about who you are, what you do, where you are based and when and how you started making furniture?

I grew up in the Medway towns in North Kent which was a kind of deindustrialised London satellite, spotted with weird pieces of military and industrial architecture going back centuries. It's gentrified now, with every available park space sprouting generic new builds, and the decrepit factories and docks replaced with plastic housing. I think this early exposure to decaying monumental structures heavily influenced my role now as a furniture maker, working primarily in concrete.

I'm currently working out of a workshop in Leven, Fife. I'm very lucky to be very near the beach, just over the forth from Edinburgh.

If I'm honest, I started to make furniture as a way of monetising my practice as an artist. Previously I was using my skills within the arts production and landscape industries. It seemed a good way of condensing my ideas into something marketable.


Where do you go to find inspiration and what inspires your practice?

I find inspiration in materiality. My practice is based around the concept of artificial construction and decay. I joked with a friend about the idea of "made up, not quite right landscapes." That describes my process well. I attempt to replicate natural forms by working the material to a set of pre-described rules, often setting these with an arbitrary grid, whilst allowing the material to behave to its natural inclination.

After building layers of material I then grind and polish, in a kind of faux erosion. I'm fascinated by the processes of geology and how material behaves under duress, and try to replicate this within my work.

I try to frame these concepts within the visual language of mid century modernism, there's something about the appropriation of the mass idealism that this represents that lends itself well to concrete. Strong shapes, vibrant colour and flawed optimism.


Polycromatic coffe table. Photography by Tina Sorenson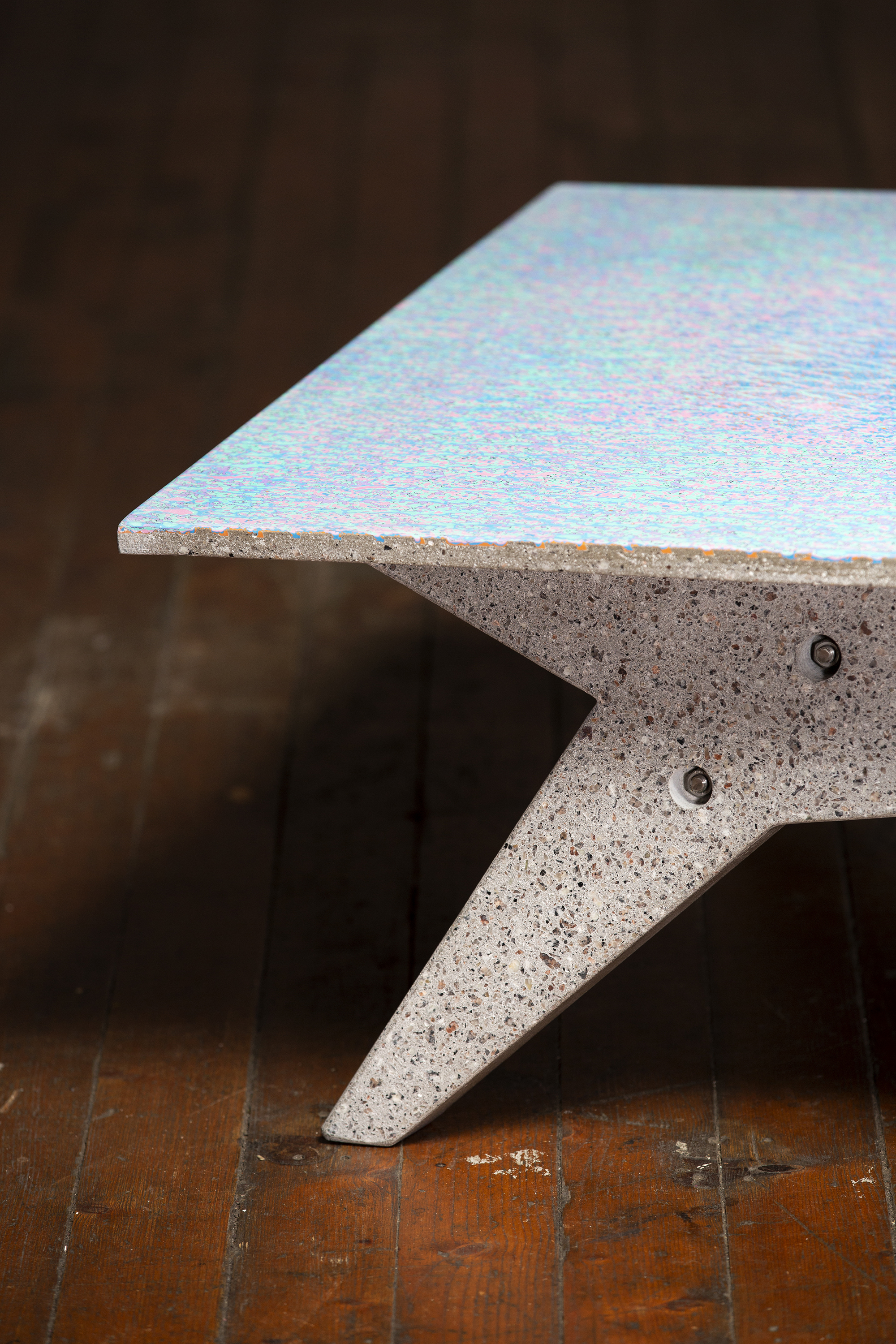 Polycromatic coffe table. Photography by Tina Sorenson

What led you to explore concrete as a material and what makes it unique to your practice?

I was raised in a family of builders, so a combination of sand, stone and cement was always a constant. I remember laying bricks when I was seven. Moving forward into art school it was a material that was primarily cheap, and a material I knew how to work.

It also links into the "made up landscapes" concept. I see concrete as artificial stone, imagined geology. Variations of aggregates, cement, and process allow for near endless possibilities in colour, texture, and form. For me concrete represents the opportunity to play with material construction and decay until I find a middle ground I find value in.

Concrete's environmental impact needs to be acknowledged, it has become the structural engineers safety blanket. Its embedded co2 is favourably comparable to most other materials. However, its strength and cheapness lead to it being hugely over-specified. Partly out of practicality and partly in reaction to this, I always try to engineer my objects to use the minimum amount of material.


Tell us more about your table range "prospect" and what it was like to be part of "The Future of Home" exhibition with Local Heroes.

My table range "prospect" represents the culmination of about 10 years of material research and development. The technique of adding colour to concrete and using the material like paint to create original hard surfaces has been the core of my art practice. I always intended to take this process and apply it to usable objects, emphasizing the durability of the surface. "Prospect" allowed me to combine this material innovation with visually strong precast techniques, creating a range that I consider to be as conceptually loaded as it is visually stimulating.

Local Heroes', "The Future of Home" exhibition was a fantastic opportunity to take this work and present it to a wider audience. The standard of design and invention present at the exhibition was astounding, and it was humbling to be part of a show representing some of the best designers and makers in Scotland. Local Heroes' Stacey Hunter, deserves a special shout out for making it happen and pushing Scottish design forward into new markets.


The Future of Home
Local Heroes at London Design Festival 2021
Photography by Reuben Paris


Art Direction + Styling Reuben Paris & Stacey Hunter



What are you working on right now, and what is next for Nicholas Denney?

I'm celebrating just moving into a new space that I share with a traditional furniture maker, so good things are happening, including doing a few bits in timber. My main project that I'm working on is a full kitchen, which is very exciting. But as ever, I like to keep the R&D side ticking over, so I've been doing some really interesting stuff using clear epoxy to consolidate fairly sculptural forms. I've been concentrating on 2 dimensional surfaces for a while but I feel I'm about to swing back to more 3 dimensional forms. Interesting times ahead.


How would you describe your work in 3 words?

Thoughtful, experimental, solid.


The Future of Home
Local Heroes at London Design Festival 2021
Photography by Matthew Gonzalez-Noda
Art Direction + Styling Stacey Hunter


Cover image:
The Future of Home
Local Heroes at London Design Festival 2021
Nicholas Denney- Land Side Table and INSTRMNT - The Lounge Chair
Photography by Reuben Paris
Art Direction + Styling Reuben Paris & Stacey Hunter



nicholasdenneystudio.co.uk
@nicholasdenneystudio